OISC Level 1 Training - Become An Immigration Adviser
WHAT WE DO
To facilitate your professional development we offer an interactive and engaging OISC Level 1 training course for OISC accreditation, with ongoing support from our expert team of advisors.
Our team of immigration experts is here to provide you with support, guidance and career advice throughout your professional journey.
WHAT YOU GET
Our specialist immigration team shall assist you throughout your journey to achieving OISC accreditation before, during, and after our OISC course of 6.5 CPD hours.
All delegates on our OISC Level 1 Training receive an OISC course handbook (worth £99.99). This OISC handbook contains the key information you need in order to prepare for the OISC competence assessment.
OISC Course delegates receive a 50% discount sitting a single OISC Mock Exam Paper with us, which offers the opportunity to sit a mock OISC exam and receive feedback from immigration experts.
You shall also receive access to your course recordings, as well as our Pacific Aftercare, which includes an invitation to OISC WhatsApp group* (*Subject to Group availability and our discretion). 
About Our OISC Level 1 Training
Our OISC Level 1 Training covers the following topics:
A look at the Office of the Immigration Services Commissioner (OISC).

An analysis of the structures, terminology and framework of UK and nationality law.

An in-depth look at immigration rules that fall in the following topics:

Business and investment immigration law

Family immigration law

Student immigration law

Immigration law for EEA nationals

Settlement

British citizenship, naturalisation and registration

Other Visa categories

A comprehensive look at example OISC competence assessment questions.

A look at model OISC competence assessment answers, produced by our resident OISC expert.

We don't want you to feel lost in the crowd. That's why we always keep our class sizes small. The training you'll receive during our course is designed to help you pass the OISC competence assessment. Moreover we encourage delegates to engage, interact and ask questions. 
We understand life can be unpredictable and circumstances can change. You may need to adjust your course date and so we allow you to reschedule your OISC course date once at no charge. Please contact our support team to do so. If you need to reschedule your course date again, we may need to charge a small admin fee to change the course date.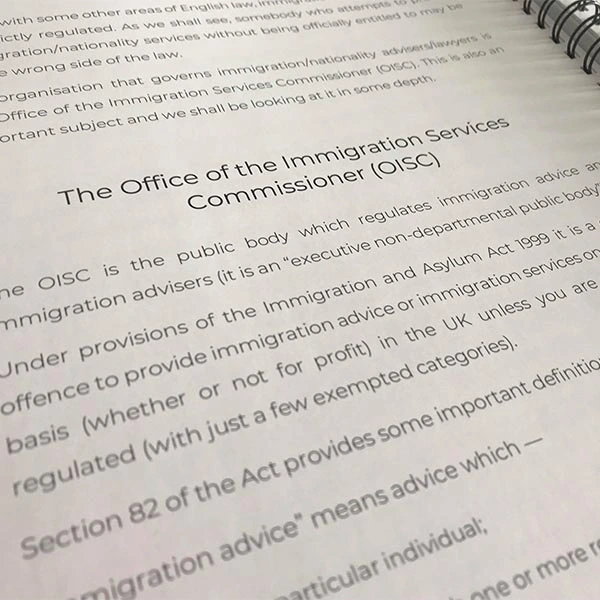 In the days leading up to the course, you receive a course handbook, agenda and a link to the training session. Our courses are held on Microsoft Teams. Our team is here to help guide you through the process and answer any initial questions you may have.
Our one-day online OISC Level 1 course is split into 4 sessions, broken up by a lunchbreak and 2 shorter, 15-minute, breaks. We encourage you to ask questions, engage on the chat and network with others in the immigration sector.
After the course, you receive a course recording and a certificate. We recognise that learning is a journey, and so our team is on hand after the course to help address any questions or queries arising from the course.
Who should take the OISC Level 1 course?
You may need to take the Level 1 course if you fall into any of the below categories: a) you want to pass the OISC Level 1 competence assessment; b) you want to set up your own OISC business; c) you want to increase your knowledge of the OISC and of UK immigration law; or d) if you are new to UK immigration law and want to decide if working as an OISC adviser is the right career path for you.
You can find more information about our Level 2 and Level 3 OISC courses at the following links:
What can I do with OISC Level 1 accreditation?
Following the government guidance, OISC level 1 advisers are permitted to undertake advisory and assistance work, and submit basic immigration applications including the following categories:
visitors
spouses/unmarried partners under the five-year route
fiancé(e)s
other dependent relatives
Settled and Pre-settled Status application
Points Based Immigration System applications
Other work visas permitted under the rules (for example – UK Ancestry Visa or Frontier Worker Permit)
Applications covering extensions of stay and settlement under Appendix ECAA, formerly covered by the European Communities Association Agreement (ECAA).
Diplomats, their family members and domestic staff
BN(O) Status Holder
Where cases or applications become more complex, such as with illegal entry, human rights grounds, or application rejections, the adviser should refer to a higher level adviser.
No substantive asylum work, such as making applications or appeals, is permitted at Level 1.
Source: gov.uk
About Your OISC Course Trainers
Our immigration law tutors are experienced OISC-accredited advisers and have been working in the immigration field for many years. They are knowledgeable in their field and teach OISC delegates the information required in order to pass the OISC exam.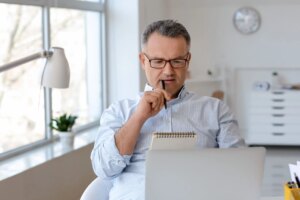 Our exam marking service provides you with knowledge, practical experience and confidence in preparing for the OISC competence assessment.
Less than half of the people who sit an OISC competence assessment receive a pass grade. We're here to ensure you are in the best position to be in the successful minority.
Our exam marking service gives you the opportunity to have your mock exam answers marked by our team of experienced immigration professionals. We provide you with exam papers based on real questions from OISC assessments. Our immigration experts will then review your work and provide you with feedback. The feedback will include a comprehensive analysis of your answers, including what you did well and tips on how you can improve to answer the questions in the most effective way possible.
You can choose either a single paper package or a three paper package where you can put the feedback you receive into immediate effect.
If you purchase a single mock exam paper with a course, you will receive the paper for half price.
CPD Courses
Stay compliant with your regulator by taking our CPD courses. Contact us today or subscribe to our mailing list.