Welcome to the
Home of OISC Training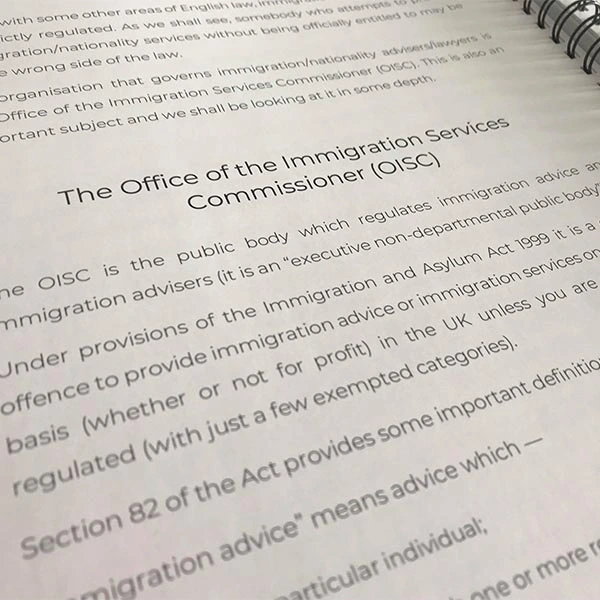 In the days leading up to the immigration course, you'll usually receive a course handbook, agenda and a link to the training session. Our immigration courses are held on Microsoft Teams. Our team is here to help guide you through the process and answer any initial questions you may have.
Our one-day immigration course is split into 4 sessions, broken up by a lunchbreak and 2 shorter, 15-minute, breaks. We encourage you to ask questions, engage on the chat and network with others in the immigration sector.
After our immigration course, you'll receive a course recording and a certificate. We recognise that learning is a journey, and so our team is on hand after the course to help address any questions or queries arising from the course.
After the Immigration Training
After the OISC course, delegates receive a course recording, certificate of attendance and are invited to our peer-to-peer WhatsApp club, subject to our joining rules. The WhatsApp club facilitates shared learning and networking opportunities with others in the sector.
Our team provides you with support after the immigration course. We recognise that learning is a journey, so if you have any questions or require any support after your online immigration course finishes, please get in touch. We are here to help you succeed in your immigration career. Send us a quick message and we'll be on hand to assist you.
If you are looking to sit the OISC Level 1 exam, the OISC Level 2 exam or the OISC Level 3 exam, then our OISC Mock Papers provide you with knowledge, practical experience and confidence in preparing for the OISC competence assessment.
Less than half of the people who sit the OISC exam receive a pass grade, so it is important to make sure you are fully prepared before taking the OISC exam. We're here to ensure you are in the best position to be in the successful minority.
Our OISC sample papers give you the opportunity to have your mock exam answers marked by our team of experienced immigration professionals and help you to pass the OISC exam. We provide you with OISC exam papers based on real questions from OISC assessments. Our immigration experts will then review your work and provide you with feedback. The feedback will include a comprehensive analysis of your answers, including what you did well and tips on how you can improve to answer the questions in the most effective way possible.
You can choose to prepare for the OISC exam with either a single Mock Paper or with three Mock Papers where you can put the feedback you receive into immediate effect.
If you purchase a single Mock Paper with an OISC course, you will receive the OISC Mock Paper for half-price.
Book Your Immigration Training Now