WHAT WE DO
To facilitate your professional development we offer an interactive and engaging OISC Level 2 training course for OISC accreditation, with ongoing support from our expert team of advisors.
Our team of immigration experts is here to provide you with support, guidance and career advice throughout your professional journey
About Our OISC Level 2 Training
Our Level 2 OISC Immigration Course covers the following topics:​
A comprehensive look at the intermediate-level immigration law requirements, including:
The Immigration Rules and leave outside the Rules
Asylum/human rights applications
Rights of challenge and appeals to the First-Tier Tribunal (IAC)
Article 8 of the European Convention on Human Rights
Detention and Bail
A comprehensive look at example OISC competence assessment questions.
A look at model OISC competence assessment answers, produced by our resident OISC expert.​
We don't want you to feel lost in the crowd. That's why we always keep our class sizes small. The training you'll receive during our course is designed to help you pass the OISC competence assessment. Moreover we encourage delegates to engage, interact and ask questions.
Who is it for?
You may need to take the Level 2 course if you fall into any of the below categories:
You want to pass the Level 2 competence assessment;
You want to set up your own OISC business; or
You want to increase your knowledge of UK immigration law.
You can find more information about our Level 1 and Level 3 OISC courses at the following links:
What can I do with OISC Level 2?
Following the government guidance, OISC level 2 advisers are permitted to undertake casework in addition to advisory and assistance work. You will be able to handle more complex applications within the Immigration Rules as well as applications outside the Rules or under UKVI's concessionary or discretionary policies.
Level 2 advisers can submit initial applications and appeals on initial grounds, as well as the work that can be done by a Level 1 adviser. Cases required specialist casework, such as challenging existing case law or third country asylum appeals, must be referred to a higher level adviser.
Source and more information: gov.uk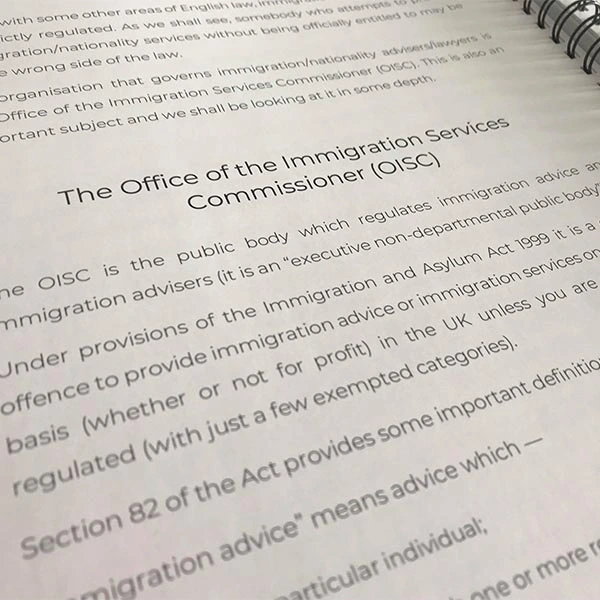 In the days leading up to the course, you receive a course handbook, agenda and a link to the training session. Our courses are held on Microsoft Teams. Our team is here to help guide you through the process and answer any initial questions you may have.
Our one-day course is split into 4 sessions, broken up by a lunchbreak and 2 shorter, 15-minute, breaks. We encourage you to ask questions, engage on the chat and network with others in the immigration sector.
After the course, you receive a course recording and a certificate. We recognise that learning is a journey, and so our team is on hand after the course to help address any questions or queries arising from the course.
CPD Courses
Stay compliant with your regulator by taking our CPD courses. Contact us today or subscribe to our mailing list.